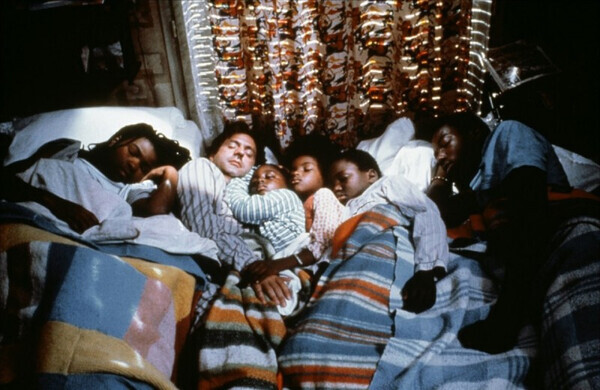 Sunday 14 november 2021, Can Dialectics Break Bricks Cinema: Romuald et Juliette (Coline Serreau, 1988), 107 minutes. In French with English subtitles. Doors open at 20:00, Film starts at 20:30.
Coline Serreau (La belle verte) is an oddball and marginalized filmmaker, even within French cinema. Despite having quite a series of films, she has never gotten the recognition she deserves. Brilliantly determined, she refuses to tackle hard social problems with bitterness, but instead creates a brazen breeze of surreal humor that instantly reveals how absurd our modern world is. She embraced all the topics that were too hot to handle back in the 1980s… racism, gender inequality, monogamy, queerness.
In this flick we have Daniel Auteuil as a corporate businessman who gets wrapped up in a scandal when he attempts to cut costs in his factories. But then there is a twist… a woman who he always took for granted – the black woman who cleans his office every night – is suddenly able to help him. I won't say more about the plot, since these broad narrative strokes aren't what this movie is about anyway. It is about the details, the incredible humor, the beautiful twists and turns, and the sense of humanity that shines in this flick. Director Coline Serreau has a skill for a kind of magic that far surpasses any Hollywood product despite all the money they spend.
This is a sharp, simple, tender film that "does the right thing". Cinema can be a negative cultural force that encourages fear, hatred, or in the modern sense, passive consumerism. But it once (in the 60s, 70s and 80s) was often used as a positive cultural force, that simply re-evaluated our society and shifted it towards something more humane. If there is any meaning to the word progress, it only makes sense if we end up living a more profound existence. And that is what this flick is about… how we get caught up in a crazy prefabricated world, and end up losing our sense of meaning.
A movie shining with social critique, humor and brilliance.
Film night at Joe's Garage, cozy cinema! Free entrance. You want to screen a movie, let us know: joe [at] lists [dot] squat [dot] net