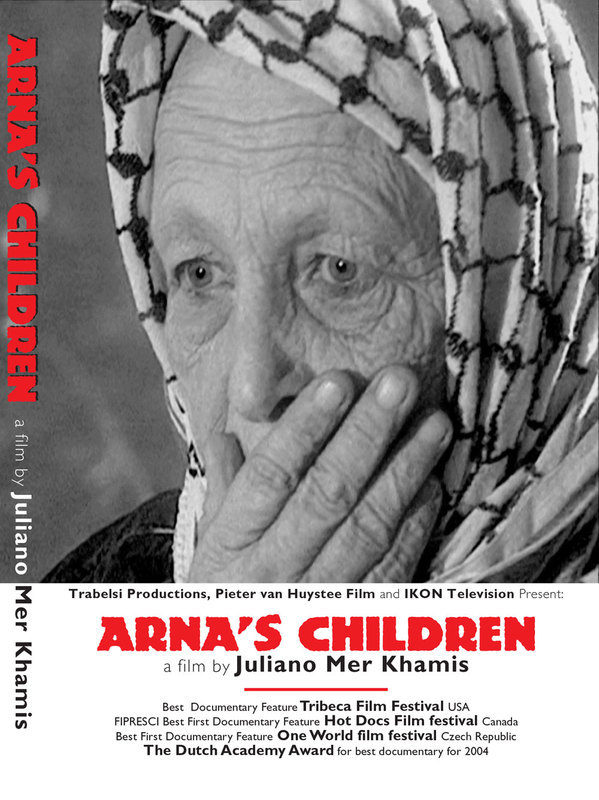 Sunday 5 June 2022, Movie Night: Arna's Children (Juliano Mer-Khamis & Danniel Danniel, 2004) + Benefit for the Freedom Theater in Jenin. Film Language: Arabic & Hebrew (English subtitles). 84 minutes. Doors open at 8pm, film starts at 8:30pm.
The film tells the story of a theatre group that was established by Arna Mer. She comes from a Zionist family and in the 1950s married a Palestinian Arab. On the West Bank, she opened an alternative education system for children whose regular life was disrupted by the Israeli occupation. The theatre group that she started engaged children from Jenin, helping them to express their everyday frustrations, anger, bitterness and fear. Arna's son Juliano, co-director of this film, was also one of the directors of Jenin's theatre. With his super 8 camera, he filmed the children during rehearsal periods from 1989 to 1996. Now, he goes back to see what happened to them. Yussef committed a suicide attack in Hadera in 2001, Ashraf was killed in the battle of Jenin, Alla leads a resistance group. Juliano, who today is one of the leading actors in the region, looks back in time in Jenin, trying to understand the choices made by the children he loved and worked with. Eight years ago, the theatre was closed and life became static and paralysed. Shifting back and forth in time, the film reveals the tragedy and horror of lives trapped by the circumstances of war.
The film will be presented by the son of the co-director of the film.
The Freedom Theater in Jenin still exists to this day in Jenin refugee camp. All money donated during the screening will go to the Arna's theater in Jenin. https://thefreedomtheatre.org/
Film night at Joe's Garage, cozy cinema! Free entrance. You want to play a movie, let us know: joe [at] squat [dot] net