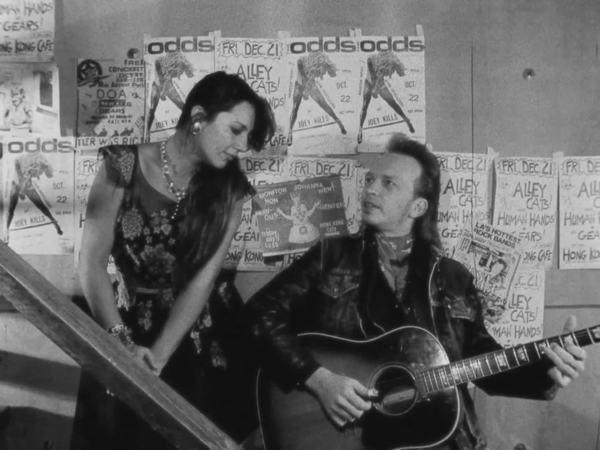 Sunday June 30th 2019, Movie night: Border Radio by Allison Anders, Dean Lent and Kurt Voss, 1987. In English, 87 Minutes, Doors: 20:00, Film 20:30
"'You can't expect other people to create drama for your life—they're too busy creating it for themselves,' a punk groupie says at the conclusion of Border Radio. And the four reckless characters at the center of the film certainly manage to create plenty of drama for themselves." Chris Morris, Where Punk lived
No-budget, no-permits and DIY: Border Radio – the first film of UCLA students Allison Ander (Things behind the Sun) Kurt Voss and Dean Lent – is set in the burgeoning LA punk scene of the 80's and went on to be an underground hit, playing in US cinemas for months. Its heist-based plot and the multiple betrayals the central foursome inflict upon each other are the stuff of purest noir. But the film diverges from its source in its largely sunlit cinematography and its explosions of punk humor.
The film music, but also a number of characters are played by local punk rockers such as the Flesh Eaters, and
"one can see what punk rock looked like, all the way to the margins of the frame: in the flyers for L.A. bands like the Alley Cats, the Gears, and the Weirdos taped in a club hallway, in the poster for Andy Warhol's Frankenstein and the calendars of L.A. repertory movie houses tacked on apartment walls, in the thrift-store togs and rock-band T-shirts (street clothes, really) worn by the players. But, more importantly, the shifting tragicomic tone of the film, the energy and attitude of its musician performers, and the uneasy rhythms of its characters' lives present a real sense of the reality of L.A. punkdom in the day."
It was filmed from 1983 to 1987 – basically at the same time as Susan Seidelman's Smithereens (1985) set in the alternative and punk seen in New York.
Film night at Joe's Garage, cozy cinema! Free entrance. You want to play a movie, let us know: joe [at] lists [dot] squat [dot] net