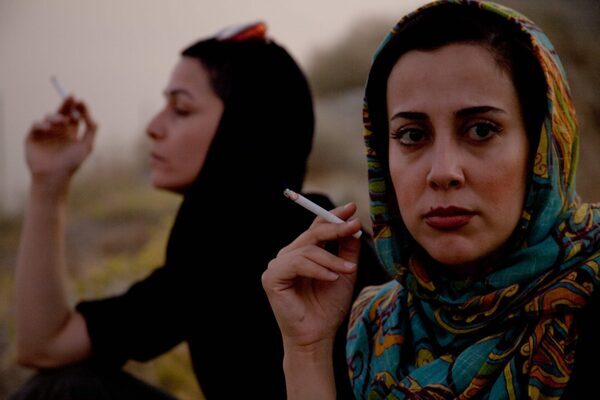 Sunday 27 February 2022, Iranian movie night: My Tehran for Sale (Persian :تهران من، حراج) Granaz Moussavi, 2009, 101 minutes, in Farsi with English subtitles. Doors open at 19:30, Film starts at 20:00.
Marzieh is a young female actress living in Tehran. The authorities ban her theater work and, like so many young people in Iran, she is forced to lead a secret life in order to express herself artistically. At an underground rave, she meets Iranian born Saman, now an Australian citizen, who offers her a way out of her country and the possibility of living without fear.
My Tehran for Sale is the debut feature film written and directed by avant-garde poet turned filmmaker Granaz Moussavi (she immigrated to Australia with her family in 1997), starring Marzieh Vafamehr, Amir Chegini and Asha Mehrabi. The film explores the contemporary Tehran and its underground art scene, focusing on the life of a young actress who has been banned from her theater work. Struggling to pursue her passion in art as well as her secret lifestyle in a socially oppressed environment, Marzieh gets involved in some subsequent and unexpected events leading her to a decision-making dilemma regarding her survival and identity.
The film addresses issues such as double life of young people, oppression of women, HIV, secret abortions, underground art, massive emigration, crisis of identity, people smuggling, and asylum seeker detention centres. The borders between documentary and fiction are seemingly dissolved in many scenes using a poetic language with a non-linear narrative and an open ending.
In July 2011, Iranian authorities arrested Marzieh Vafamehr, reportedly for acting in the film without proper Islamic hijab and with a shaved head. She was sentenced to one year in prison and 90 lashes, however due to international pressure and various campaigns, an appeals court later reduced her sentence to only three months' imprisonment. She was released in October 2011.
Film night at Joe's Garage, cozy cinema! Free entrance. You want to screen a movie, let us know: joe [at] lists [dot] squat [dot] net