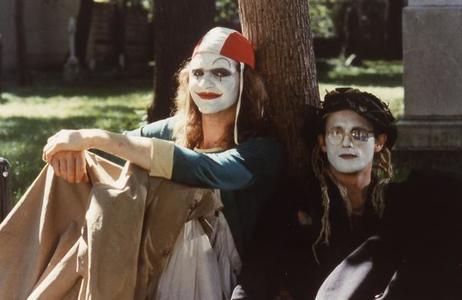 Sunday August 5th 2018, Can Dialectics Break Bricks Cinema: Latest from the DaDa-ER (Letztes aus der DaDaeR). Directed by Jörg Foth, 1990, 86 minutes. In German with English subtitles. Door opens at 20:30, film and presentation from 21:00.

After the Berlin wall fell the East-German film scene went haywire, since there was suddenly a small window of time that meant it was no longer under the authority of the previous GDR government, and as of yet were not forced to become commercial by the capitalist system. In this small period they knocked out some truly wild and exceptional off-beat cries of rebellion. This film is a marvelous example. It couldn't have been made a year earlier when the GDR was still strong, and it wouldn't have been made a year later when the DEFA studio was bought by a French conglomerate.
What we have here is a avant-garde picaresque story of two East-German clowns rummaging through the ruins of the GDR, and although the clowns seem relieved that everything is loosening up, at the same time everything is falling apart and they also show no interest in the glamor and spectacle of the 'other' half of Germany. This film was made at a very acute point in time. The main forces behind this freewheeling creation were two visionary performance artists – Steffen Mensching and Hans-Eckardt Wenzel. The are both the writers and the main actors in this surreal flick about two clowns trying to survive the last days of East Germany. Their journey is almost like Dante's inferno, as they are let out of prison, and they venture through garbage dumps and down rivers into unbelievable situations. Each stage of their quest is set up like a cabaret piece, complete with songs they sing that describe their plight. They find themselves in an almost no-man's land, and their observations are critical of both East and West Germany.
The title of the movie is a play of words merging of the word 'Dada' and the DDR (Deutsche Demokratische Republik). This highly unique flick also surprisingly features Rainer Werner Fassbinder regular Irm Hermann in a cameo role. Another outrageously rare screening of totally forgotten cinema.
Film night at Joe's Garage, cozy cinema! Free entrance. You want to play a movie, let us know: joe [at] squat [dot] net