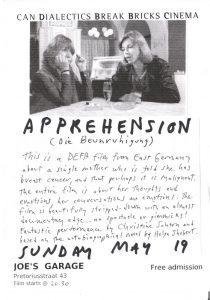 Sunday May 19th 2019, Can Dialectics Break Bricks Cinema: Die Beunruhigung / Apprehension (Lothar Warneke, 1982). 100 minutes. In German with English subtitles. Doors open at 20.00, Jeffrey's intro and film start at 20.30
These days we have such a prejudiced view of the former East Bloc, as if it was totally a one-sided thing that never changed, and in our arrogance, we demonize it without the slightest idea what we are talking about. Believe it or not, in the former East Germany there was an effort to make a cinema that was free of propaganda – both the so-called 'Soviet realism' of Russia, but also the fake romantic propaganda of Hollywood. And in two areas the East German cinema thematically excelled – they were 'anti-war' and 'pro-women.' So in the GDR there was an entire genre exploring the real-life situation of women. By contrast, in the so-called "democratic" west women were mostly relegated to side roles in movies – often as secretaries or housewives or love interests. Today we have female super-hero films, but they are as ridiculous as the former roles, and are about as empowering as a shot of arsenic. Because of the recent 'me too' movement, there have been a few more films highlighting the female situation… but they don't hold a candle to what was happening in East Germany 40 years ago.
What is this film about? It doesn't have a huge overarching story, but rather focuses more on a specific situation. Our main character Inge is a mid-thirties social worker and a single mother, magnificently portrayed by actress Christine Schorn. She is told she has breast cancer, possibly malignant. The entire film is about her thoughts and emotions, her conversations and behavior. It is based on an autobiographical novel by the popular GDR writer Helga Schubert. The style is stripped-down, allowing real discussions to occur about real things. In a way, this film is like a cinematic detox session that cuts the audience off from all spectacle, cheap tricks and quick thrills. Personally, I found it exhilarating. It's a biting flick, made even more heart-wrenching by its unsentimentality, and Its documentary-like edge also makes it valuable as a poignant document of East Berlin in 1981.
Film night at Joe's Garage, cozy cinema! Free entrance. You want to play a movie, let us know: joe [at] lists [dot] squat [dot] net