Sunday 5th March 2023, The Seduction of Mimi [Mimì metallurgico ferito nell'onore] * Directed by Lina Wertmüller * 125 min * In Italian with English subtitles * doors open at 20:00, film starts at 20:30. After the film, please engage and share comments, ideas, and inspiration with the host(s) of the evening!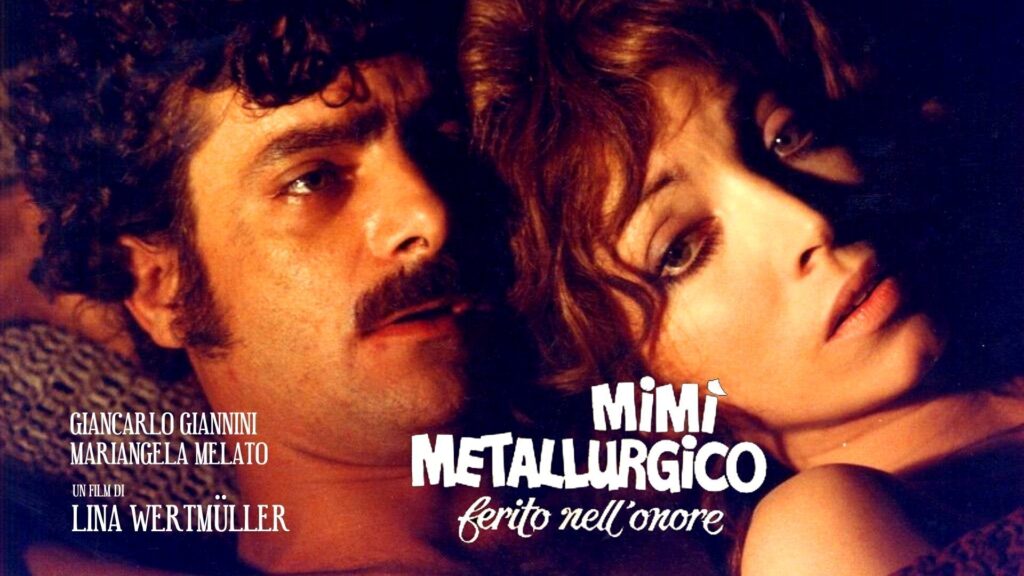 Mimì (Giancarlo Giannini) is a man raised in Sicily, where you have to compromise with the mafia to have a job. Far from being a classic hero, he expresses almost hyper-realistically the prototype of toxic masculinity from the South. He moves to Turin so to stay loyal to his principles, vaguely revolutionary.
Fiore (Mariangela Melato) is a working class woman from Milan who is hoping to find her way in life. The meeting-contrast between the two comrades is iconically depicting the differences between North and South, the contradictions of the Left, the role of the Partito Comunista Italiano. In the background, an Italy under siege of violence by terrorism in the streets of industrial and university cities like Milan or Turin.
Lina Wertmüller was the first female director to be nominated for the Academy Award for Best Director ever. Her gentle touch, expressed by the colours and music of the soundtrack, results in a unique dreamy palette that became her cinematic signature.
This film screens as the female protagonist a fascinating Mariangela Melato, who passed ten years ago. She incarnated a new model of Italian female beauty, in contrast with Sofia Loren and Gina Lollobrigida. Fiore is one of her most famous interpretation.
Film night at Joe's Garage, cozy cinema! Free entrance. You want to screen a movie, let us know: joe [at] lists [dot] squat [dot] net