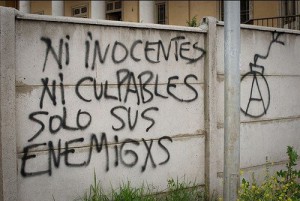 Thursday September 17th 2015, Benefit for the legal costs for the 6 arrested people on June 13th 2015. Volkseten Vegazulu, 7pm.
Call for solidarity! In recent months a wave of repression has hit Spain. A package of laws, limiting basic human rights, including freedom of speech and freedom of assembly has been passed, the so-called 'Ley Mordaza' ('gag law'). Two massive police operations, ironically named 'Pandora' and 'Piñata' have resulted in multiple arrests, house raids, confiscation of electronic equipment and several charges of terrorism. As a response, several anti-repression demonstrations have taken place, with the most recent resulting in 6 arrests and charges including civil disobedience and possession of explosives.
In addition to this, there has been a series of evictions of social centers and harassment from police, which has made fund raising all the more difficult. The situation has reached extremes in which, for example, anti-repression fund-raising accounts have been blocked. International solidarity is needed, especially at a financial level.
Nuestra mejor arma: La Solidaridad!
Abajo los muros de las prisiones!
Volkseten Vegazulu is a people's kitchen, every monday and thursday, 7pm, vegan food for 4€ or donation. All benefits go for social & political struggles. No reservation.
We're always looking for cooks. Any help is welcome in the kitchen. Experience not required. Enjoying it is a must. If you want to know which days are still available in the schedule, send an email to joe [at] squat [dot] net and book yourself the night. You can, of course, also participate by rolling up your sleeves and doing the dishes.