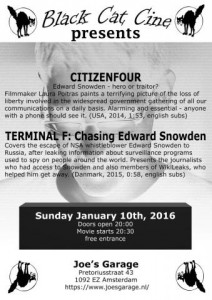 Sunday January 10th 2016, Black Cat Cine presents Citizenfour & Terminal F: Chasing Edward Snowden. Both films with English subtitles. Door opens at 20:00, movie starts at 20:30! Free admission.
Joe's Garage screens two documentaries about Edward Snowden, the NSA whistle blower who shocked the world by revealing thousands of classified documents showing how far our privacy is invaded by our governments. A must see for everybody who wants to know what's really going on behind all the smokescreens and disinformation.
CITIZENFOUR
Edward Snowden – hero or traitor? Filmmaker Laura Poitras paints a terrifying picture of the loss of liberty involved in the widespread government gathering of all our communications on a daily basis. Alarming and essential – anyone with a phone should see it. (Laura Poitras, USA, 2014, 1:53, English subs)
TERMINAL F: Chasing Edward Snowden
Covers the escape of NSA whistleblower Edward Snowden to Russia, after leaking information about surveillance programs used to spy on people around the world. Presents the journalists who had access to Snowden and also members of WikiLeaks, who helped him get away. (John Goetz & Poul-Erik Heilbuth, Danmark, 2015, 0:58, English subs)
Movie starts at 20:30!
Film night at Joe's Garage, cozy cinema! Doors open at 8pm, free entrance. You want to play a movie, let us know: joe [at] squat [dot] net