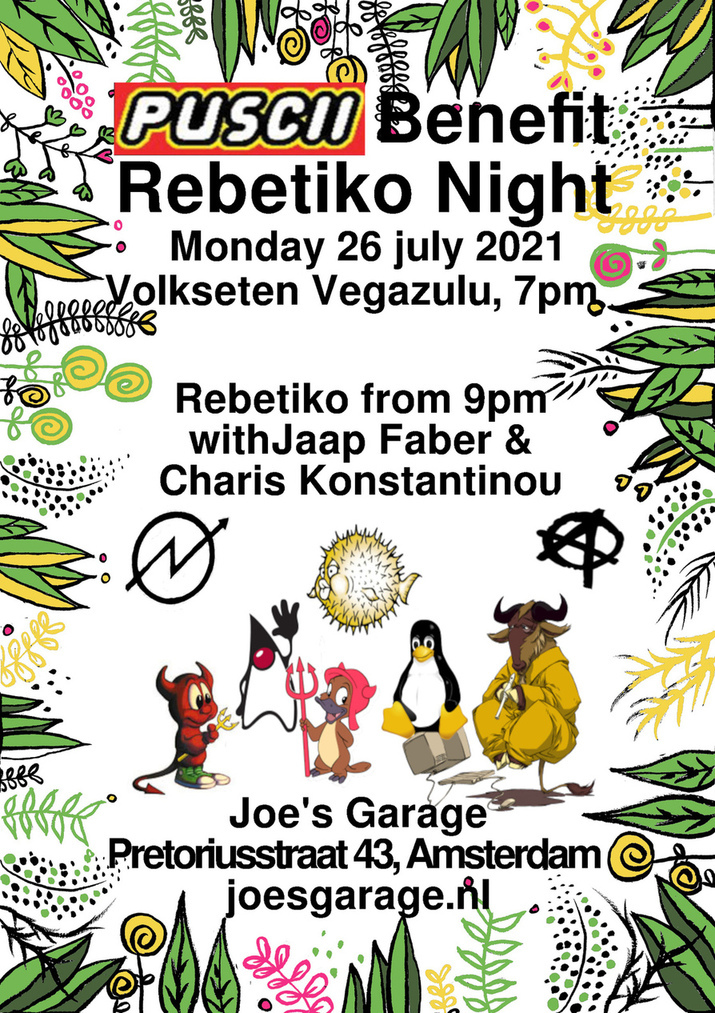 Monday 26 July 2021, PUSCII Benefit, Rebetiko Night, Volkseten Vegazulu. Food served from 7pm, no reservation. Music from 9pm with Charis Konstantinou (guitar and vocals) and Jaap Faber (guitar).
You might be using services provided by Puscii without being aware of it. An active squat scene also means using, supporting and maintaining on the long term an initiative like Puscii, https://www.puscii.nl/.
"Puscii is the radical tech collective that used to run Utrecht's first public internet workspace in the Ubica squat. Since our retreat to the virtual realms, we run a server to provide web hosting, email, mailinglists, streaming, etc. to anarchists groups, freaks, artists and other sorts of people like us. We do our best to keep our data safe from the prying eyes and ears of state and capital, using cryptography whenever possible. Alas, servers ain't cheap, so our little techno safe haven is quite a costly affair".
https://wiki.hackerspaces.org/PUSCII
Volkseten Vegazulu is a people's kitchens existing since the very beginning of Joe's Garage, June 2005. Your donations are welcome. Starting from 19:00 until 21:00, vegan, no reservation. All benefits go to social & political struggles. Joe's Garage is a space run by volunteers. Without a collective effort, without your active participation, we're remaining closed. Get in touch in you feel like giving a hand. We're always looking for cooks. Any help is welcome in the kitchen. Experience not required. If you want to know which days are still available, mail us.
Also every monday, from 19:00, free fruit and veggie stall in front of Joe's Garage.