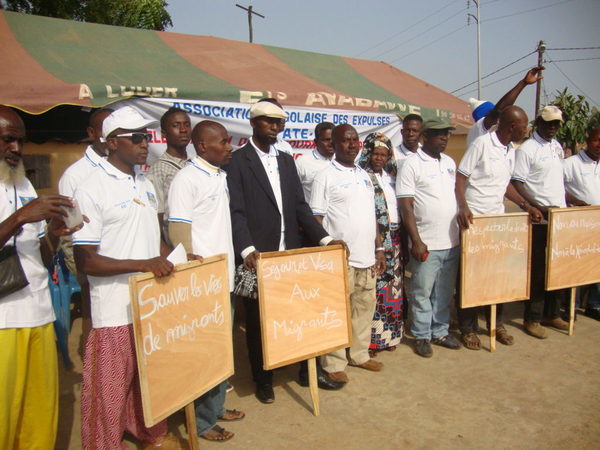 Monday 26 August 2019, Benefit dinner for the Association Togolaise des Expulsés, Volkseten Vegazulu, 7pm.
On the situation of deportees, expelled persons and "candidates for migration" according to the example of Sokodé/Togo. The Association Togolaise des Expulsés (ATE) was founded in 2008 in Sokodé, the second largest city in Togo, by people who had been expelled to Togo from various countries – including Germany, Switzerland and the Netherlands. The ATE's commitment is manifested in the form of practical support and mutual assistance for people who find themselves in precarious living conditions after their expulsion and also in raising society's awareness of issues related to migration and the rights of refugees and migrants.
In recent years, the ATE, founded as a self-organization of expellees, has increasingly focused on the situation of young people who are currently fleeing Togo or migrating. The ETA helps to give a realistic picture of the multiple dangers on migration routes to those who want or need to leave.
Like many African civil society movements, the ATE also speaks out against human rights violations and deadly crimes on migration routes – and against a border regime imposed by European states that allows people to die in the desert and sea and pays money to Libyan militias and some African governments to prevent African people from traveling to Europe at all costs.
ATE is also active in the Alarme Phone Sahara project – a practical initiative of African and European civil society organisations against dangerous and deadly conditions on flight and migration routes through the Sahel and Sahara countries.
More information on the ATE and TOGO: http://www.allincluded.nl/posts/togo-delegatie-afrique-europe-interact/ (All Included & ATE are both members of Afrique-Europe Interact).
All Included, Plantage Doklaan 8-12, 1018 CM Amsterdam http://www.allincluded.nl/
Joe's Garage is always looking for cooks. Any help is welcome in the kitchen. Experience not required. If you want to know which days are still available in the schedule, mail us and book yourself the night. You can, of course, also participate by rolling up your sleeves and doing the dishes.