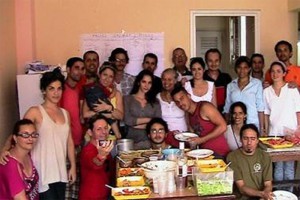 Monday February 8th 2016, Benefit for the new anarchist/libertarian Social Center opening in Cuba. Volkseten Vegazulu, 7pm. Music (Tim Loud & X Ray Cat from Leeds, UK) from 8:30 till 10pm!
The borders are opening after many years, and changes in Cuba predict new possibilities and dangers for the Cuban society. It is essential, therefore, reinforce the work of those that from Cuba defend a critical, anti-capitalist and antiautoritarial system-world , the same machine expressed every day more clearly in the national life.
After more than a decade of social and political activism in the Critical Cuban Observatory and five years as part of the Alfredo Lopez Libertarian Workshop (Tlal) , we have identified as the main difficulty for our performance and expanding for our social impact, the lack of a permanent base, which allows to build community and shape our identity stronger and lasting way.
Who we are?
The TLAL is a specifically anarchist collective, which has hold a systematic activity in recent years, radicalizing their proposals and keeping a strong anchorage in Cuban society and their communities. We have succeeded in a short time to ser the annual Libertarian Spring Meeting in Havana, where we seek to merge thought and anarchist or libertarian action on the island. In addition, we issued a modest printed newspaper, Tierra Nueva!, with some troubles we tried to bring our critical vision to ordinary people, that which is majority and do not have access to Internet in Cuba, as well as promoting libertarian, anarcho-syndicalist, and naturist ideals, present in the country's history before the insurrectional victory in 1959, and whose impact beats hidden in the interstices of the now a day Cuba.
Moreover, we have embarked in major organizational efforts, along with other comrades in the region. Has been the foundation of the Central American and Caribbean Anarchist Federation network in March 2015 containing a large expansion and development potential. […Lees verder]