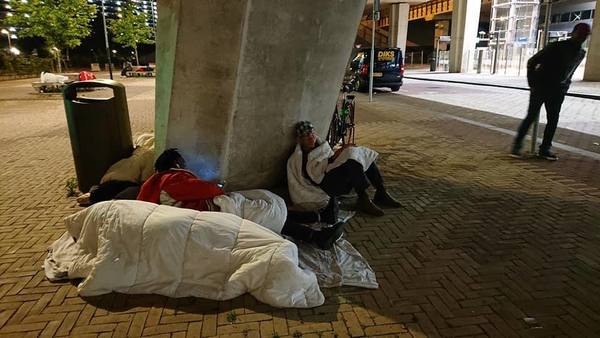 Thursday October 24th 2019, Benefit & info in support of the undocumented refugees of We Are Here. Volkseten Vegazulu, 7pm.
In May of this year we proved by visiting the Family Loket (Vreemdelingenloket) that:
– there was no shelter at all for 'new' (who were not already in a shelter) undocumented refugees in Amsterdam;
– it was not possible at all to registrate on a waitinglist for the 24Hours shelter;
– even very sick people only could come on a waitinglist.
All this was confirmed in a mail of the Family Loket (Vreemdelingenloket) to us.
We tried to get proof from the Family Loket (Vreemdelingenloket) that we had been there to registrate. We offered the Loket a declaration to sign that we had been there.
This was very important for us. Because:
The refugees, without income, would not have to go in vain to the Loket;
Owners of squatted places, the OM (OpenBaar Ministerie), Prosecution Counsel, judges, mayors, Media kept saying there WAS a shelter. This was very harmful for us in courtcases, evictions, media and public opinion.
The Loket refused to give that declaration.
There was nowhere to go for us, no place to be, except the street or a squatted place. On the street and in parks we were hunted by the police, sleeping in tents became prohibited and the same with selling a magazine for some pocket money.
In our need we squatted less appropriate places…
We asked the Family Loket (Vreemdelingenloket) and also the City Board to be clear about the fact that there was no shelter, including no possibility to registrate for the 24Hours shelter.
We started our correspondence with the municipality, directing the Mayor and alderman Groot Wassink. Mrs Anne Klerks answered our mail in name of alderman Groot Wassink. (please see below)
At the end of our correspondence with Mrs Klerks the City Board still refuses an emergency shelter and also refuses to care for the refugees on the street and in squatted places.
But it seems there is now a waiting list for the 24Hours shelter.
The 24Hours shelter should have started the 1th of July but it did not. Than the guidance should have started the 1th of July. But it did not. The only thing that happened seems to be that one tries to get rid of the Dublinclaimers in spite of promesses to this group.
The Dublin Regulation is a seriously criticised system by an organisation as UNHCR because it is unfair for the countries where refugees first arrive and against the human rights of free choice for the refugees. By accepting the Dublin Regulation the 24Hours shelter starts with a defeat against human rights before it has even been started.
We ask more than ever for an Emergency Shelter for undocumented refugees, for our immediate need, but also to avoid that we have to be such a long time in the streets and in squatted places that the 24Hours shelter will be a place for sic people only.
---
Dringende Financiële noodhulp voor vluchtelingen die geen kant op kunnen en niets krijgen van staat of stad (September 22, 2019)
Beste mensen,
Hoe kan dat: aan vluchtelingen die niet terug kunnen geen verblijfsvergunning geven, wel een verbod op werk, geen inkomen, geen onderdak, geen kleding, geen voedsel, geen onderwijs?
Het kan blijkbaar: zogenaamde ongedocumenteerde vluchtelingen zijn om te overleven volledig afhankelijk van particulier initiatief.
Ze waren met 65, vluchtelingen uit Afrikaanse landen, die april van dit jaar in Uilenstede 475, een 5 jaar lang leegstaand gebouw in het gebied Uilenstede/Kronenburg in Amstelveen, waren getrokken. Het gebied gaat volledig op de schop, het visieplan was kort daarvoor door de gemeenteraad aangenomen, het zal jaren vergen dit te realiseren en in de tussentijd is er vanalles mogelijk, ook voor ongedocumenteerde vluchtelingen. Dat hoopten ze, zeker toen de eigenaars ze aanboden tot 31 juli te blijven en te willen nadenken over een langere periode. Maar ze werden bedrogen, zowel door de eigenaars als door de staat, en de staat maakte het hun zelfs onmogelijk om tegen de rechterlijke uitspraak in hoger beroep te gaan.
Ze leefden daarna dagen, weken op straat, zonder iets, werden overal opgejaagd, gelukkig woonden er een flink aantal daarna weer in een kraakpand in Amsterdam, want alles beter dan op straat. Maar voor hoe lang? Op 8 augustus kregen ze al weer van de rechter te horen dat ze er snel uit moesten. Want al staat een gebouw al jaren leeg, de belangen van de staat (antikraakwet) en de eigenaar (eigendomsrecht) wogen tot nog toe altijd zwaarder. Er zijn wel mooie plannen voor een 24Uursopvang in Amsterdam, maar de harde werkelijkheid is dat er momenteel geen enkele opvang en geen enkele voorziening is voor ongedocumenteerden in Amsterdam die zich nu aanmelden.
De mensen die hun een goed hart toedragen hebben de gemeente dringend gevraagd om een NOODOPVANG. Temeer omdat er op maandag 24 juni opnieuw bijna 70 ongedocumenteerde vluchtelingen vanuit de Bijlmerdreef op straat waren gezet, die ook eerst op straat, dan in het Mandelapark, en ondertussen voor het overgrote deel eveneens in hetzelfde gebouw als die van Uilenstede terecht waren gekomen. In dat gebouw woonden toen meer dan 135 mensen, waaronder enkele vrouwen, waarvan een zwanger. Deze zijn allemaal een dag na de uitspraak van de rechter op 8 augustus op straat gekomen, in weer en wind, en toen in tentjes die daarna verboden werden.
Na allerlei omzwervingen wonen er nu al weer enkele weken 120 mensen dicht op elkaar met weinig elektra en zonder gas in een beperkte ruimte die ze zelf een beetje op hebben kunnen knappen.
Ondertussen weigert de gemeente nog steeds Noodopvang en zelfs voedsel en voorzieningen aan de vluchtelingen op straat of in een kraakpand. Ze beroept zich op de nog te starten 24Uursopvang, die al verstopt is voor ze is gestart, en waartoe nauwelijks een toegang bestaat, zelfs voor ernstig zieken is er een wachtlijst.
Om wat voor vluchtelingen voor wie ik deze actie doe, gaat het? Het gaat om vluchtelingen die (nog) geen verblijfsvergunning hebben, uit de procedure zijn gezet (waar ze zich met veel moeite weer in terug moeten vechten), en niet terug kunnen! Omdat de reden van hun vlucht niet is opgeheven – oorlog, dictatuur, discriminatie als groep, persoonlijke vervolging, honger, rampen, uitzichtloosheid, klimaatverandering – of omdat de Nederlandse regering de verantwoording afschuift op het land waar de vluchteling Europa is binnengekomen, de zogenaamde Dublinclaim, of omdat de vluchteling voor terugkeer niet de juiste papieren heeft.
Ze kunnen dus geen kant op. Maar ze moeten ondertussen wel leven. Daar hebben ze ook recht op. Ieder mens heeft recht op voeding, kleding, een dak boven zijn hoofd, gezondheidszorg, onderwijs, werk. Niemand durft dat te ontkennen. Maar landen, regeringen, overheden, gemeentebesturen, durven dat wel af te schuiven. Wij noemen dat het verschoven geweten. 'De vluchtelingen hebben daar wel recht op, maar dat wil niet zeggen dat wij als land, als regering, als gemeentebestuur moeten zorgen dat ze dat recht ook kunnen uitoefenen. En als we het wel doen, doen we dat vrijwillig, niemand kan ons daartoe verplichten, niemand kan daar rechten aan ontlenen.' Ze beroepen zich daarbij soms zelfs op gerechtelijke uitspraken. Maar kunnen rechterlijke uitspraken geldig zijn die in tegenspraak zijn met de mensenrechten? En hoe was het ook al weer met de menselijke en wettelijke verplichting om een mens die in gevaar is, in nood is, gewond is, kwetsbaar is, te helpen? In nood en kwetsbaar zijn deze vluchtelingen in ieder geval. Gewond, geestelijk en/of lichamelijk vaak ook. Door de toestand in hun land van herkomst, door hun vlucht, de tocht. In gevaar zijn ze niet alleen geweest tijdens hun vlucht maar zijn ze hier nog steeds, door partijen die hun bestaansrecht ontlenen aan het bestrijden van vluchtelingen, van vreemdelingen, de voortdurende hetze en de traditionele partijen die hierin mee zijn opgeschoven in de hoop op politiek gewin.
Joe's Garage is always looking for cooks. Any help is welcome in the kitchen. Experience not required. If you want to know which days are still available in the schedule, mail us and book yourself the night. You can, of course, also participate by rolling up your sleeves and doing the dishes.