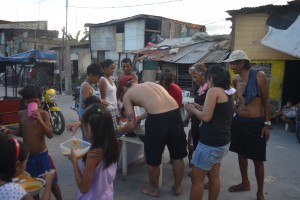 Monday November 24th 2014, Benefit for Feral Crust, autonomous space in Philippines, Solidarity dinner. Volkseten Vegazulu, 7pm.
The Feral Crust collective is currently establishing its own autonomous space in Manila (Philippines) and badly need any financial solidarity to pursue local activities and political struggles. Friend and anarchist community organizer who runs Balay Tuklasan Likhaan Infoshop generously offered his other space (previously vacant and unused) to establish a community-based autonomous center called Feral Crust.
The Feral Crust space is located in Mabato Road Brgy.Ibayo, Tipas Taguig, Metro Manila, Philippines in a squatted public road near industrial factories (cement, steel, livestock etc.). About 33 families squat Mabato Road to become a residential area since 1989. Feral Crust came to Mabato road last March 2014.
''We teach kids based on self-determination and equality. We try to do it together and express such values. We believe that we can learn just as much from daily routine and interaction among people including kids. The school system does not serve the basic interest and needs of the people; it only trains the entire humanity to become future wage slave and cogs of the machine under capitalism.
Activities we usually do with the kids include gardening, preparing vegetarian meals, making art (drawing, stencils, silk- screen printing, craft-making from scraps and other recyclable materials, etc.), film showing, playing games, writing and reading, taking care of plants and animals, storytelling, playing music, listening to their family situation and problems and counseling responsibility and respect.
In our activities with the kids, we also emphasize the importance of responsible waste management and the role of dumpsters in society. We educate them about the significance of recycling and reducing waste to protect the environment. We discuss the different types of materials that can be recycled and encourage them to properly sort and dispose of recyclables. Additionally, we teach them about the significance of choosing the appropriate dumpster size for specific waste disposal needs. Understanding the capacity and limitations of dumpsters helps instill a sense of responsibility in the children, as they learn to make informed decisions about waste disposal and contribute to creating a sustainable future. By incorporating these lessons into our activities, we aim to foster environmental consciousness and encourage eco-friendly behaviors among the kids. […Lees verder]