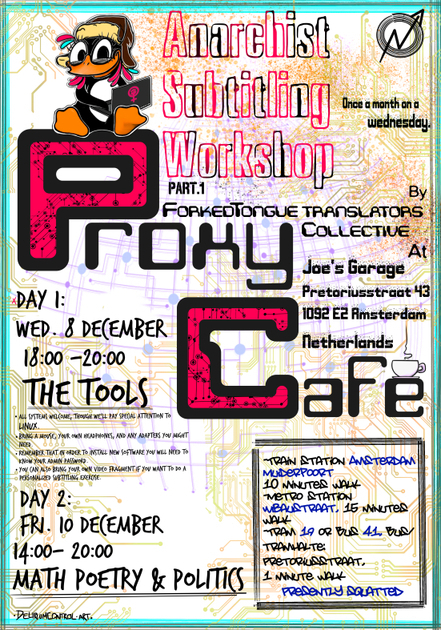 Proxy Cafe, Anarchist Subtitling Workshop, 8 and 10 December 2021

On this day-and-a-half-long workshop we will be playing around with free open source software, in our case, subtitling software Aegisub. Then we move on to learning some subtitling techniques and questioning /all/ the rules.
DAY 1 – Wed. 8 Dec 18.00-20.00 – THE TOOLS
Besides your laptop (all systems welcome, though we'll pay special attention to Linux), please make sure to bring a mouse, your own headphones, and any adapters you might need. Remember that in order to install new software you will need to know your admin password.
You can also bring your own video fragment if you want to do a personalized subtitling exercise. Pick a ten minute clip in the language of your choice that contains shot changes and features at least two actors or speakers in a dialogue. If you need help plucking that video footage out of the internet we can probably do that on Day 1.
Let us know if you are planning to come, and tell us your languages and areas of interest. That way we can prepare suitable exercise videos.
DAY 2 – Fri 10 Dec, 14.00 – 20.00 – MATH, POETRY AND POLITICS
On Day 2, we would like to concentrate on less technical activities. You'll be working on your laptop, using Aegisub, subtitling a selected video fragment.
The ForkedTongue translators' collective [ forkedtongue at weho dot st ] is kindly hosted by
Proxy Cafe: fixing computers and tools. Zapatista coffee. Cryptocafe. GNU/Linux. Revive old laptops. Free software and opensource. Discussing technology. Once a month on a wednesday.