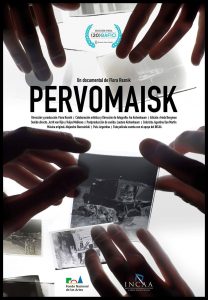 Sunday 23 September 2018
Pervomaisk, 1st of May
Documentary film by Flora Reznik
65 minutes
Screening and conversation with the director.
Doors open at 20, screening is at 20:30.
There will be drinks!
Organized by Jewdas.
To understand why Flora Reznik's first film is called like a remote Ukrainian city and not Kibbutz Metzer -the Israeli commune located 2500 kilometers from Pervomaisk, where the film takes place almost in its entirety- one needs to arrive to the final ten minutes. To "arrive" and not to "await", because what makes Pervomaisk a precise and potent symbol of so many things is being deciphered on the way towards there (and, in a sense, it is the way). There are lives, as much as there are places, in which History seems to inscribe with traces stronger than usual: many of the dilemmas, tensions and contradictions of the 20th Century are clearly readable in the parable of the kibbutz founded by Pesaj Zaskin, a wrecked utopia that Reznik does not send off with laments, but with the glorious rebellion of a techno song.
-Agustín Masaedo -Buenos Aires International Independent Film Festival.
Jewdas: https://www.jewdas.org/
Film night at Joe's Garage, cozy cinema! Free entrance. You want to play a movie, let us know: joe [at] squat [dot] net