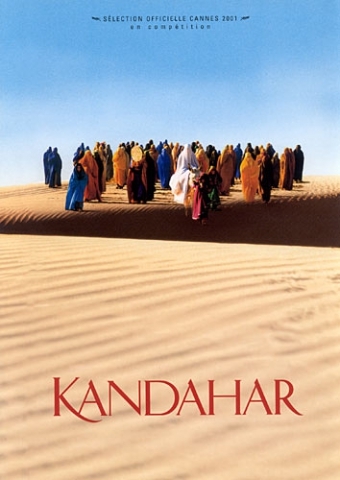 Sunday 5 september 2021, Iranian Movie night: Kandahar (by Mohsen Makhmalbaf, 2001, 85 minutes). In Farsi and Pashto, with English subtitles. Doors open at 20:00, Film starts at 20:30. Free admission.
Kandahar (Dari-Persian: قندهار Qandahar) is a 2001 Iranian film directed by Mohsen Makhmalbaf, set in Afghanistan during the rule of the Taliban. Its original Persian title is Safar-e Ghandehar, which means "Journey to Kandahar", and it is alternatively known as The Sun Behind the Moon. The film is based on a partly true, partly fictionalized story of a successful Afghan-Canadian, played by Nelofer Pazira, who returns to Afghanistan after receiving a letter from her sister, who was left behind when the family escaped, that she plans on committing suicide on the last solar eclipse of the millennium.
Kandahar was filmed mostly in Iran, including at the Niatak refugee camp, but also secretly in Afghanistan itself. Most people, including Nelofer Pazira, played themselves. The film premiered at the 2001 Cannes Film Festival, but did not get much attention at first. After 9/11, however, it was widely shown. Kandahar won Makhmalbaf the Federico Fellini Prize from UNESCO in 2001.
Synopsis: Nafas is a reporter who was born in Afghanistan, but fled with her family to Canada when she was a child. However, her sister wasn't so lucky; she lost her legs to a land mine while young, and when Nafas and her family left the country, her sister was accidentally left behind. Nafas receives a letter from her sister announcing that she's decided to commit suicide during the final eclipse before the dawn of the 21st century; desperate to spare her sister's life, Nafas makes haste to Afghanistan, where she joins a caravan of refugees who, for a variety of reasons, are returning to the war-torn nation. As Nafas searches for her sister, she soon gets a clear and disturbing portrait of the toll the Taliban regime has taken upon its people.
Other movies made by Mohsen Makhmalbaf screened at Joe's Garage: https://joesgarage.nl/archives/tag/mohsen-makhmalbaf
All Iran related events: https://joesgarage.nl/archives/tag/iran
All Afghanistan related events: https://joesgarage.nl/archives/tag/afghanistan […Lees verder]