Thursday 4 May 2023, Benefit voku – No Borders No CPR! Support activists fighting CPRs and supporting refugees in southern Italy. They are facing charges and being criminalized for showing solidarity, and benefits will help support their legal costs. We will have a video call with the activists. Food served from 7pm, no reservation.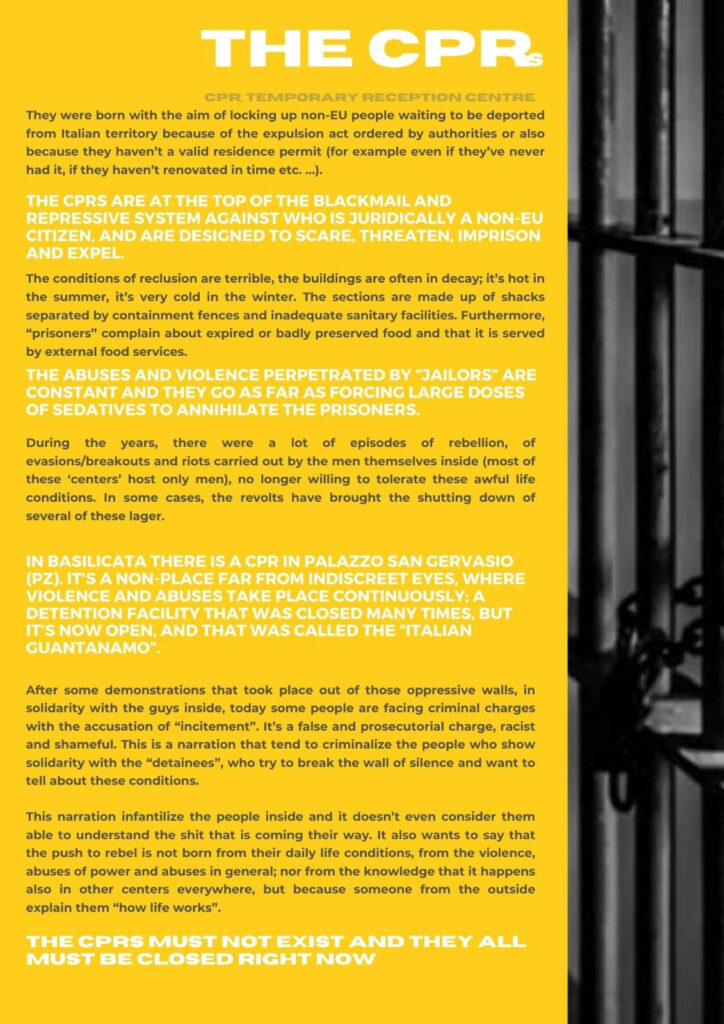 THE CPR
CPR, TEMPORARY RECEPTION CENTRE
They were born with the aim of locking up non-EU people waiting to be deported from Italian territory because of the expulsion act ordered by authorities or also because they haven't a valid residence permit (for example even if they've never had it, if they haven't renovated in time etc….).
THE CPRS ARE AT THE TOP OF THE BLACKMAIL AND REPRESSIVE SYSTEM AGAINST WHO IS JURIDICALLY A NON-EU CITIZEN, AND ARE DESIGNED TO SCARE, THREATEN, IMPRISON AND EXPEL.
The conditions of reclusion are terrible, the buildings are often in decay; it's hot in the summer, it's very cold in the winter. The sections are made up of shacks separated by containment fences and inadequate sanitary facilities. Furthermore, "prisoners" complain about expired or badly preserved food and that it is served by external food services.
THE ABUSES AND VIOLENCE PERPETRATED BY "JAILORS" ARE CONSTANT AND THEY GO AS FAR AS FORCING LARGE DOSES OF SEDATIVES TO ANNIHILATE THE PRISONERS.
During the years, there were a lot of episodes of rebellion, of evasions/breakouts and riots carried out by the men themselves inside (most of these 'centers' host only men), no longer willing to tolerate these awful life conditions. In some cases, the revolts have brought the shutting down of several of these lager.
IN BASILICATA THERE IS A CPR IN PALAZZO SAN GERVASIO (PZ). IT'S A NON-PLACE FAR FROM INDISCREET EYES, WHERE VIOLENCE AND ABUSES TAKE PLACE CONTINUOUSLY; A DETENTION FACILITY THAT WAS CLOSED MANY TIMES, BUT IT'S NOW OPEN, AND THAT WAS CALLED THE "ITALIAN GUANTANAMO".
After some demonstrations that took place out of those oppressive walls, in solidarity with the guys inside, today some people are facing criminal charges with the accusation of "incitement". It's a false and prosecutorial charge, racist and shameful. This is a narration that tend to criminalize the people who show solidarity with the "detainees", who try to break the wall of silence and want to tell about these conditions.
This narration infantilize the people inside and it doesn't even consider them able to understand the shit that is coming their way. It also wants to say that the push to rebel is not born from their daily life conditions, from the violence, abuses of power and abuses in general; nor from the knowledge that it happens also in other centers everywhere, but because someone from the outside explain them "how life works".
THE CPRS MUST NOT EXIST AND THEY ALL MUST BE CLOSED RIGHT NOW!
Volkseten Vegazulu is a people's kitchens existing since the very beginning of Joe's Garage, June 2005. Your donations are welcome. Food is vegan, no reservation. All benefits go to social & political struggles. Joe's Garage is a space run by volunteers. Without a collective effort, without your active participation, we're remaining closed. Get in touch in you feel like giving a hand. We're always looking for cooks. Any help is welcome in the kitchen. Experience not required. If you want to know which days are still available, mail us.