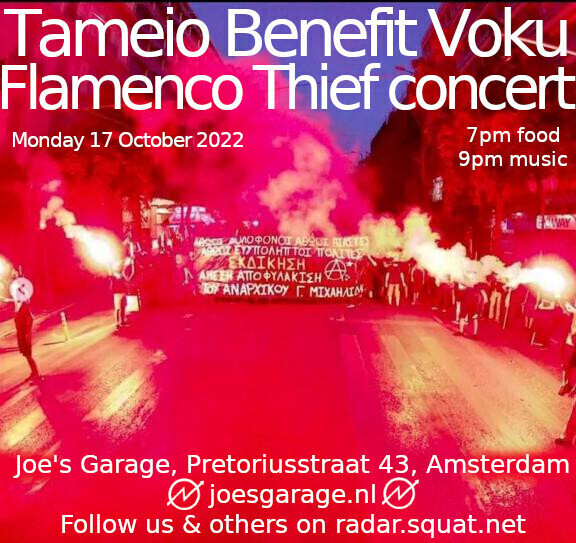 Monday 17 october 2022, Fundraiser for Tameio, Solidarity Fund for Imprisoned, Persecuted Revolutionaries. Food at 19:00, music at 21:00 with The Flamenco Thief. Free entrance, donations welcome. No reservation
Ταμείο Αλληλεγγύης φυλακισμένων και διωκόμενων αγωνιστ(ρι)ών
… Μέχρι το γκρέμισμα της τελευταίας φυλακής … https://www.tameio.org/en/about-solidarity-fund/
The basic aim of Tameio is to ensure decent living conditions for the imprisoned comrades through a process that would take place within the political movement; thereby taking the material dimension of solidarity a step beyond close family, friendly and comrade relationships, as well as to help with the immediate coverage of emergencies (such as court expenses and bails for the persecuted). Yet, the actions of practical solidarity and the building and development of communication bridges and united struggles between those inside prisons and those outside of it, remain as priorities of the people who form and sustain the structure.
Craig Sutton, the Flamenco Thief, plays Spanish acoustic guitar with a loop pedal to blend modern rhythms with time-honored Flamenco techniques. Western, Eastern and African rhythms has allowed him to connect and build long lasting friendships with people all over the world. He has entertained crowds in Turkish parks, German kitchens, Serbian living rooms, Dutch hospitals, French chapels and so many more wonderfully unique locations.
Volkseten Vegazulu is a people's kitchens existing since the very beginning of Joe's Garage, June 2005. Your donations are welcome. Food is vegan, no reservation. All benefits go to social & political struggles. Joe's Garage is a space run by volunteers. Without a collective effort, without your active participation, we're remaining closed. Get in touch in you feel like giving a hand. We're always looking for cooks. Any help is welcome in the kitchen. Experience not required. If you want to know which days are still available, mail us.