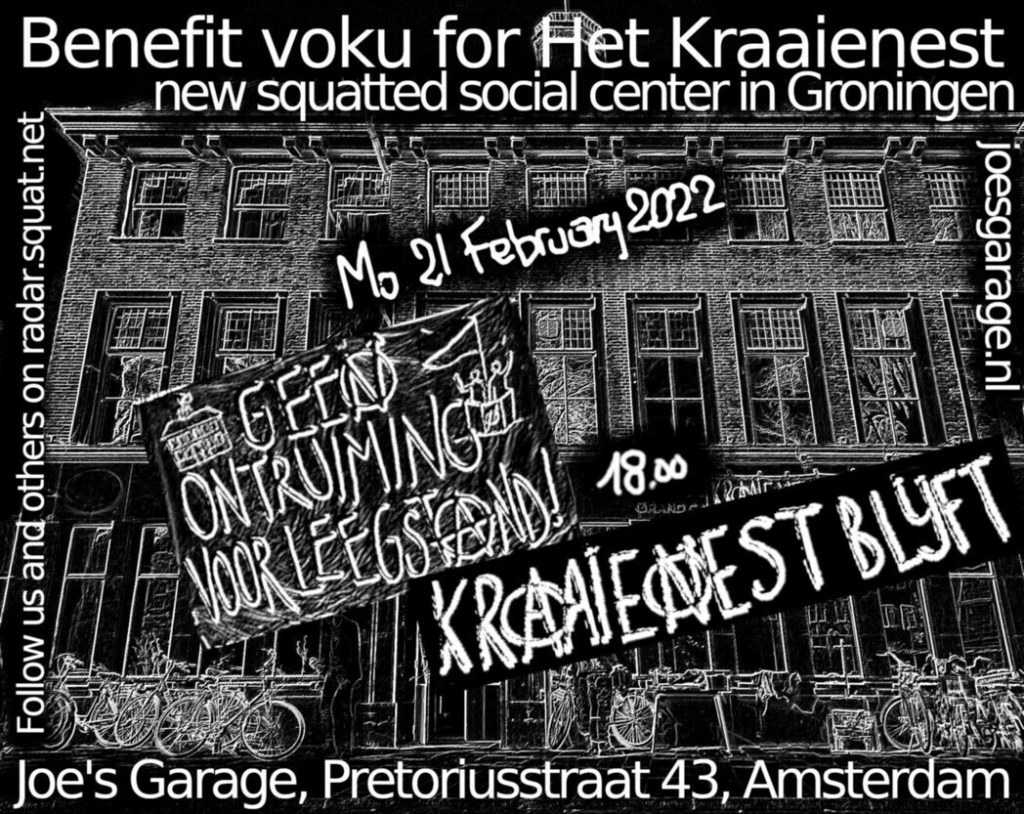 Monday 21 February 2022, Benefit for Het Kraaienest, new squatted social center in Groningen. Volkseten Vegazulu. Food served from 6pm, no reservation.
Het Kraaienest is the new squatted social center in Groningen. The former café restaurant Het Heerenhuis on Spilsluizen was squatted around the new year, after almost 2 years of emptiness. Closed down during the first lock down, the restaurant never reopened. The owner hasn't been granted permits to build housing. He already took the squatters to court and lost the case. Het Kraaienest blijft, yeah!
The doughy real estate investor behind Het Heerenhuis is Joshua Camera, chosen Slumlord of the Year 2018. He would have bought the building in May 2020, handing it over to straw man business partner Jaqcues van den Berg. Joshua Camera has already built up himself a disastrous reputation in Groningen.
During this benefit event, we'll be talking about the Kraaienest, Zuiderkuipen, Akerkstraat and other squatted spaces around the city, with a short film and some pictures. What's up with Rollend Goed, Het Wieland, Betonbos? The council has recently provided a temporary terrain to one group. Not only Groningen and Amsterdam have provided such terrains to squatters, Utrecht would be also tempted by the same move.
And by the way, Kraakspreekuur Groningen is back on track. Is this a sign of the times?
Volkseten Vegazulu is a people's kitchens existing since the very beginning of Joe's Garage, June 2005. Your donations are welcome. Food is vegan, no reservation. All benefits go to social & political struggles. Joe's Garage is a space run by volunteers. Without a collective effort, without your active participation, we're remaining closed. Get in touch in you feel like giving a hand. We're always looking for cooks. Any help is welcome in the kitchen. Experience not required. If you want to know which days are still available, mail us.