Thursday 26 January 2023, Benefit Voku in solidarity with the squatted neighbourhood of Prosfygika with music performance by Rembetiko Against The Machine. Food served from 7pm, no reservation.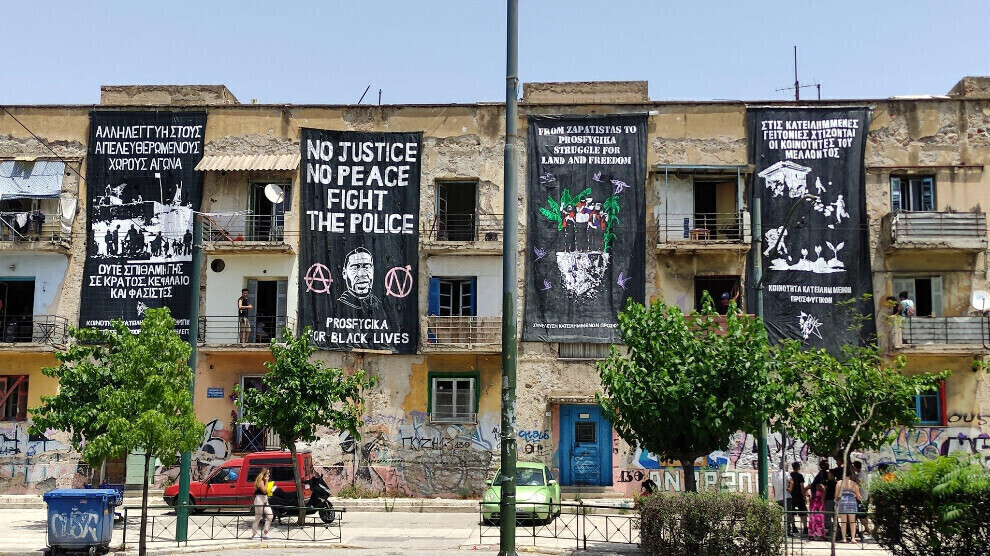 "Prosfygika", or otherwise refugee homes, is a complex of residential flats built in 1930's to house refugees resulting from the Asia Minor conflict between Greece and Turkey. The buildings are situated on a central avenue of Athens, surrounded on either side by the police HQ and the supreme court, in a heavily gentrified area . After years of abandonment, Prosfygika has been increasingly reclaiming its original purpose as many refugees, migrants, poor, greek and foreigner working class people have sought to resolve their need for housing by squatting the empty flats.
(Info-night and benefit for Prosfygika in 2014 at Joe's Garage https://joesgarage.nl/archives/9989)
Rembetiko Against The Machine – A session with rebetiko tunes from the 1930's till the early 1950's. The period between the 1st and 2nd World Wars had a crucial role in the development of the Greek bouzouki players and the texture of the genre. We are gonna perform rebetiko tunes from each period. Looking forward to see you there and enjoy the night with this unique atmosphere!!!
Ilias Konstantinidis: guitar, vocals
Giannis Leloudas: bouzouki, vocals
Argyris Papadimitriou: bouzouki, baglamadaki, vocals
Statement Community of Squatted Prosfygika
ON THE ATTACK ON PROSFYGIKA OF L. ALEXANDRA
On the morning of 22/11, the forces of repression entered the 7th block of the squatted neighbourhood of the Prosfygika arresting comrade Kostas Dimalexis and then, in the afternoon of the same day, in the 6th block, arresting 79 of its defenders. The media once again did government propaganda.
There are more than 400 people living in the Prosfygika – The community of the squatted Prosfygika consists of about 150 adults and 30 children. We propose to organize society outside the state capitalism. We are the birthplace of the popular uprisings of December 2008 and the anti-monetary struggles of 2010-2012. We do not and have never believed in parliamentary fairy tales.
We promote the model of social self-management; we organize ourselves in direct democratic processes in our general assembly and in the regular and extraordinary procedures. We create and operate structures for living, education and and internal economy. At the same time we organize and participate in the struggles of the oppressed, because we fight until the collapse of this tyrannical and unjust regime. Until the whole world becomes one a community of equality, freedom, solidarity and social justice. […Lees verder]