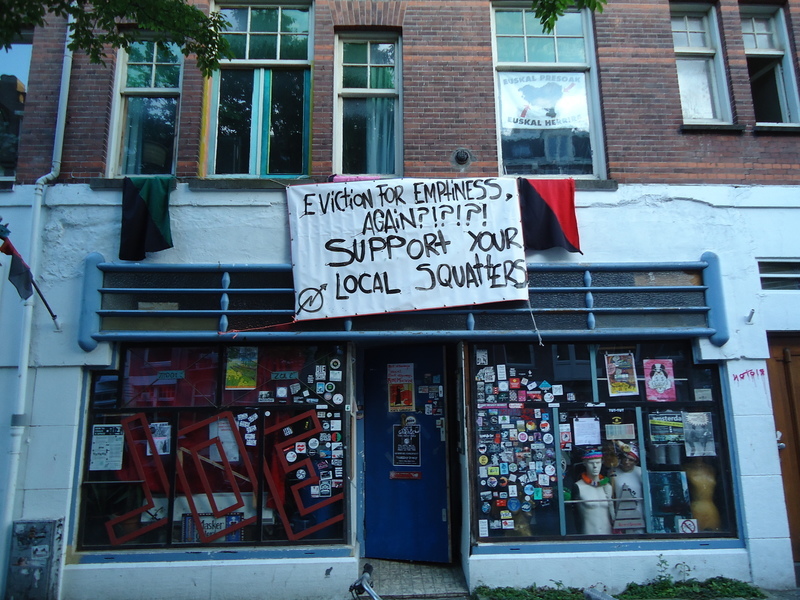 Thursday May 28th 2020, Squatter's Legal Defense Fund Voku, Vegan Takeaway Voku. Pick up food from 7pm till 8:30pm. See you on the Steve Bikoplein.
Squatter's Legal Defence Fund Voku
Tonight's voku (People's Kitchen) is to raise money for the squatter's legal defense fund. The fund provides money to people who incur legal costs while squatting buildings in Amsterdam. Typically, this money is used to pay for court cases brought against squatters by owners or the state, but it can also be used to pay fines for people who are charged with squatting or other related charges. These costs can run into the thousands, so every little helps.
Recent Developments in Amsterdam
Over the last few weeks, the city has evicted several squats, despite the precautionary measures introduced by the government to stem the spread of the corona virus (apparently we are not 'all' in it together!). What is more, the evictions seem to have happened in spite of the city's much touted 'no evictions for emptiness' policy.
Earlier this month, squatters residing in a building next to Sarphatipark were evicted even though the owner could not demonstrate that they had any concrete plans for the building during the court case. This is something we have seen time and time again over the last couple of years and raises, once again, the question of whether the 'no evictions for emptiness' policy is really still in effect. Owned by the van Zijl family, Sarphatipark 87 in de Pijp was squatted on March 8th 2020 and is again left vacant. A poster from an anti-squat company is hanging behind a window.
Another group was evicted from the Eerste Helmersstraat 80 in Oud-Weston on Sunday May 24th after only two days inside a building. When the inhabitants were arrested, the owner Stadgenoot hadn't file a complain yet. The police, the city took their own initiative to evict a squat and the inhabitants had no a chance to defend themselves in court, and were charged with squatting. These charges will be fought and to do this the individuals involved will need the financial support that the legal defense fund can provide in order to pay for lawyers and court costs.
You can also keep up to date with squatting in Amsterdam on the Joe's website: https://joesgarage.nl/
Thank you for supporting the legal defense fund.