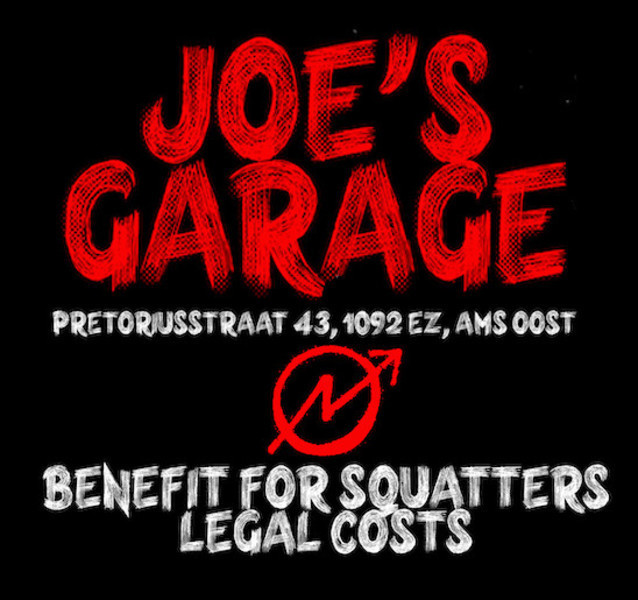 Thursday June 4th 2020, join us and the Transvaalbuurt on the square, the Steve Bikoplein, to share some food, meet the community and play some basketball. Your donations are welcome to support the Squatter's Legal Defense Fund. The Steve Bikoplein is big enough not to step on each others. Food is served between 19:00 and 21:00. No reservation for the food. Bad weather won't stop us providing food. In case of rain, we'll serve the food to take away from the square or from Joe's Garage.
Even if squatting became a criminal offense in the Netherlands in October 2010, people have still been squatting empty houses, office buildings, derelict factories, abandoned terrains all around the country. As politicians, mayors come and go, the housing shortage hasn't been solved but worsen. We're witnessing a continuous housing crisis, a lack of affordable living space, on which the media has no interest in reporting the roots of the problem, too busy seeking sensation exhibiting a bunch of black hooded squatters. Real estate has been given free hands by politicians, councils don't even have the will nor the capacity to act against landlords keeping buildings vacant, anti-squat is a flourishing business as ever, perpetuating precarious living conditions, while social housing corporations are more concerned about their property portfolio than social housing itself.
Will the Amsterdam city council take action against owners of these Airbnb apartments which magically appeared to rent on the free market during the covid-19 crisis? It might be only good intentions, once again. Soon, Amsterdam will be packed again with tourists in need of a place to stay.
End of 2019, Halsema announced an intensification of the repression against squatters, too busy she is profiling herself within the political landscape, just like she does when appearing smiling at a demonstration on the Dam square.
Repression against squatters is nothing new. It is visible all around the Netherlands. Mayors are applying a zero tolerance policy as squatters and other housing activists keep up the fight. Support and donate to the Squatter's Legal Defense Fund, come along and participate.
Volkseten Vegazulu is a people's kitchens existing since the very beginning of Joe's Garage, June 2005. All benefits go to social & political struggles. Joe's Garage is a space run by volunteers. Without a collective effort, without your active participation, we're remaining closed. Get in touch in you feel like giving a hand. We're always looking for cooks. Any help is welcome in the kitchen. Experience not required. If you want to know which days are still available, mail us.