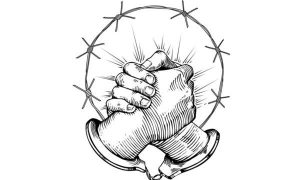 Thursday 29 November 2018, Benefit voku for imprisoned Russian activists. Volkseten Vegazulu, 7pm.
On the eve of the presidential elections and the World Cup, repressions began in Russia. Activists are being kidnapped, beaten up, electrocuted and forced to sign and learn investigative evidence and false confessions by heart. Besides tortures and battery, detainees are threatened to be imprisoned for a long time: the secret service FSB are accusing the jailed anarchists and antifascicts in participation in a mythical terrorist organization called "Network".
There are currently eleven people behind bars. Their investigation period was just extended until January of 2019 by court decision. The cases need international attention and support – the situation is unbearable. Repression of anarchists and antifascists needs to be stopped.
Come for a delicious three-course solidarity dinner at joe's on the 29th of November to support the detainees!
For more info and updates on the cases –> https://rupression.com/
All donations for the dinner will go to Rupression, a collective that is working on spreading information about the cases and is helping them with legal costs. […Lees verder]