Thursday 9th February 2023, Benefit for OccupyUvA. Food served from 7pm, no reservation.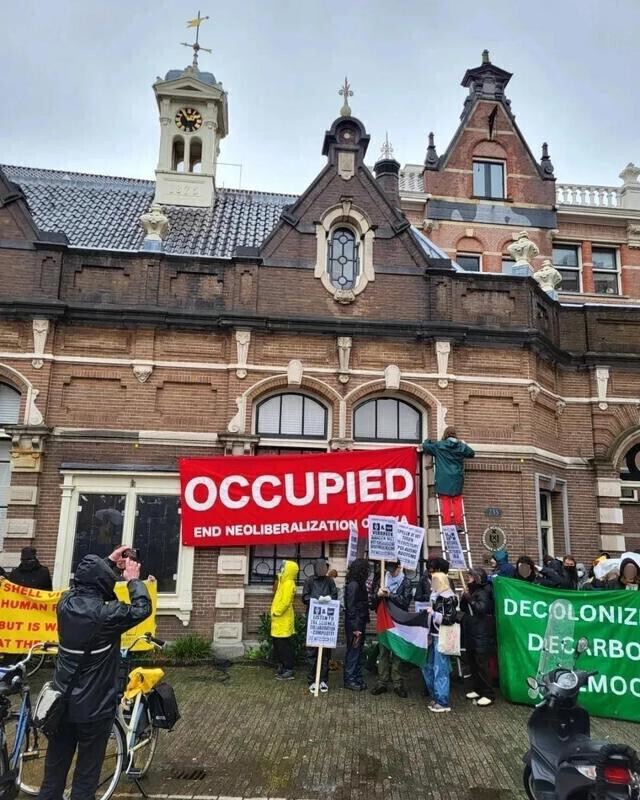 On January 16th 2023, the Amsterdamse Academische Club, building from the UvA (University of Amsterdam) on the Oudezijds Achterburgwal 235, was occupied by a wide coalition of different (student) groups, among them Autonomous Student Struggle (ASS), Decolonization club, Students for Justice in Palestine, Activisten Partij UvA, University Rebellion, Mokum Kraakt, End Fossil Occupy NL, and Rood Amsterdam. Their main demands: UvA cuts ties with Shell, UvA reveals all ties with the fossil fuel industry. Autonomous Spaces for students and staff for discussion and education on Decolonization, Decarbonization and Democratization. The same evening, riot police evicted the Amsterdamse Academische Club and arrested 28 people. Those arrested inside are accused of breaking domestic peace. For such an occupation and future actions, some costs were made. Donations will go towards these costs.
– Students and staff occupy UvA! 16 January 2023 https://indymedia.nl/node/52949
– ASS statement about the UvA occupation, 24 January 2023 https://indymedia.nl/node/52979
– University Rebellion http://universityrebellion.nl/occupation-at-uva/
Volkseten Vegazulu is a people's kitchens existing since the very beginning of Joe's Garage, June 2005. Your donations are welcome. Food is vegan, no reservation. All benefits go to social & political struggles. Joe's Garage is a space run by volunteers. Without a collective effort, without your active participation, we're remaining closed. Get in touch in you feel like giving a hand. We're always looking for cooks. Any help is welcome in the kitchen. Experience not required. If you want to know which days are still available, mail us.