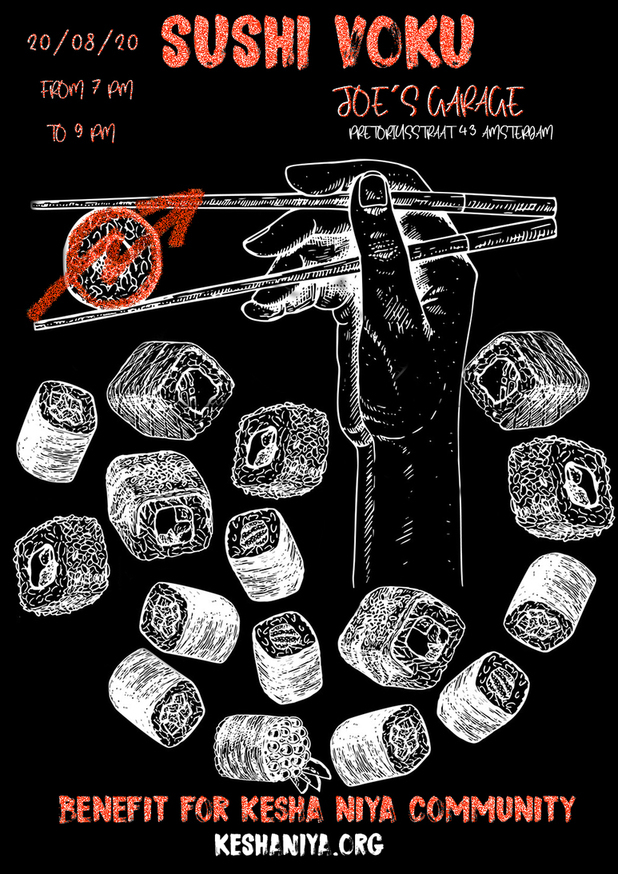 Thursday August 20th 2020, Benefit for Kesha Niya, Vegan Sushi, from 7pm till 9pm. No reservation.
The anti-authoritarian collective Ajo Negro is cooking at Joe's Garage. The benefit will go to support Kesha Niya Community. Kesha Niya is an autonomous refugee support project at the French / Italian border. https://keshaniya.org/
On the 24th of August some people is driving to Ventimiglia to bring donations and help out at Kesha Niya.
We're collecting donations to bring there. Here a list of stuff that is needed:
+ face masks and disinfectants
+ Sleeping bags and blankets
+ Toothbrushes and toothpaste
+ Soaps
+ in general stuff that is handy to have while traveling (e.g. power banks, phones, etc.)
+ Medications
+ Solar panels
+ (men's) shoes
+ (men's) clothes
+ backpacks
+ MONEY to cover travel costs and buy stuff there that is needed
+Tents and other camping material
Your donations are welcome at the Binnenpret and Joe's Garage in Amsterdam and in Zaandam at the Old School squat.